Energetics provides energy modeling and consulting services for design assistance, developer/tax credit goals, lender requirements, and multiple green certifications — including LEED, NGBS, Enterprise Green Communities, Living Building Challenge, and Net Zero Energy Certifications.
LEED Energy Modeling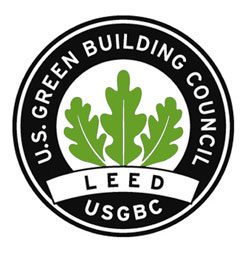 Energetics' principal Elizabeth Gillmor has been energy/daylighting consultant on over 60 award-winning LEED projects.
Her resume includes:
30+ LEED Silver/Certified
20+ LEED Gold buildings
10+ LEED Platinum buildings
Please contact us for more information.

C-PACE Energy Modeling
Energetics is proud to be an approved contractor for the Colorado Commercial Property Assessed Clean Energy program (C-PACE).  We provide energy consulting and modeling for new construction projects seeking to demonstrate modeled compliance and improvement over the 2015 IECC.  C-PACE enables owners of eligible commercial and industrial buildings to finance up to 100% of energy efficiency, renewable energy and water conservation. Financing is provided by private capital providers at competitive rates with repayment terms up to 20 years.
179D Energy Modeling
Section 179D of the Federal Tax Code provides a fantastic tax deduction for energy efficiency improvements to commercial buildings. A building may qualify for a tax deduction under Section 179D for as much as $1.80 per square foot for owners and designers.  Energetics provides energy modeling and documentation required to claim these credits.
HUD Mortgage Insurance Premium Reductions
Both market rate and affordable multifamily projects can receive significant reductions in their Mortgage Insurance Premiums through energy efficiency and green certification.  Along with our green certification partners providing the certification administration, Energetics provides the energy modeling, energy consulting, and energy documentation required by lenders to qualify.
HUD structured the proposed annual multifamily mortgage insurance rates into four categories:
Market Rate Housing
Broadly Affordable Housing, which includes loans originated under FHA's Section 542(C) Risk Share program or 542(B) Risk Share Program, as well as properties that have at least 90% of units covered by Section 8 Project Based Rental Assistance or Low-Income Housing Tax Credits.
Affordable Housing, which includes local affordability restrictions, as well as properties that have 10-90% of units covered by Section 8 Project Based Rental Assistance or Low-Income Housing Tax Credits.
Green and Energy Efficient Housing, which requires owners to pursue, achieve and maintain an industry-recognized standard for green building, such as Enterprise Green Communities Criteria, U.S. Green Building Council's LEED–H, LEED–H Midrise, LEED–NC, ENERGY STAR Certification, EarthCraft House, EarthCraft Multifamily, Earth Advantage New Homes, Greenpoint Rated New Home, Greenpoint Rated Existing Home (Whole House or Whole Building label), and the National Green Building Standard (NGBS). For properties that have already achieved a green building standard and that are refinancing with this lower MIP premium, proceeds may be used to complete further efficiency upgrades, and/or to retrofit to the next-level green certification standards.